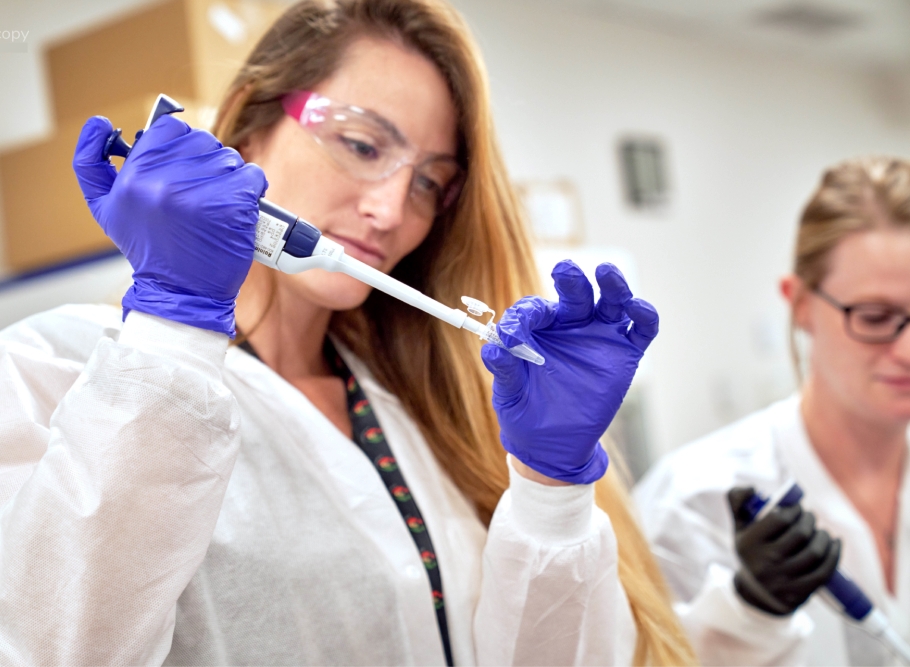 "Embrace your flaws: Everyone has flaws. I feel that I have been successful because I am able to recognize these flaws, understand where I need help, and fill in the gaps with resources and other people who are better than me in those areas. If you always assume you know everything or are always making the right decision you will be opening yourself up to failure in so many ways."

Dr. Erica Barnell, Chief Science Officer and co-founder of Geneoscopy Tweet
Original interview with Yitzi Weiner – published in Authority Magazine | July 11, 2022
In recent years, Big Tech has gotten a bad rep. But of course, many tech companies are doing important work making monumental positive changes to society, health, and the environment. To highlight these, we started a new interview series about "Technology Making An Important Positive Social Impact". We are interviewing leaders of tech companies who are creating or have created a tech product that is helping to make a positive change in people's lives or the environment. As a part of this series, I had the pleasure of interviewing Erica Barnell, PhD.
Geneoscopy co-founder, Erica Barnell graduated from Cornell University with a dual degree in Biological Sciences and Applied Economics & Management. Erica is an MD/PhD candidate at the Washington University School of Medicine. In 2019, Erica completed her PhD at the McDonnell Genome Institute. Her thesis work surrounded the development of bioinformatic tools to alleviate the analysis bottleneck within precision oncology. Erica has published 19 peer-reviewed manuscripts, 11 abstracts with 4 platform presentations, and two book chapters within the oncology space. Erica conducted the original research to validate Geneoscopy's stool extraction method and managed all feasibility studies for Geneoscopy's colorectal cancer (CRC) screening test. Erica was responsible for existing engagement with the FDA, which includes holding three presubmission meetings and obtaining Breakthrough Device Designation for the lead CRC screening test. Erica is the lead inventor on all patents pertaining to Geneoscopy's technology and is currently the site investigator on two IRB-approved protocols.
Thank you so much for joining us in this interview series. Before we dive in, our readers would love to learn a bit more about you. Can you tell us a bit about your childhood backstory and how you grew up?
I was born and raised in St. Louis, Missouri. Both of my parents are lawyers by trade, but my father left his law firm many years ago and started a company called Precision Practice Management that improves healthcare billing for physicians and hospitals. I grew up with my brother (Andrew Barnell) who became my partner in crime at a young age. Together we attended John Burroughs High School (the same one as John Hamm!) and Cornell University. In 2013, I graduated from Cornell with a double major in Biological Sciences and Applied Economics and Management. After college, while I was applying for medical school, I moved to Israel and worked at Tel Aviv University where I was developing a vaccine for Shigella. It was during this time that I fell in love with using science to develop therapeutics and diagnostics that improve the ways that we deliver healthcare. I matriculated to the MD/PhD program at Washington University in St. Louis in 2014. For the research component of my degree, I entered the gastrointestinal space where our team was looking at ways to improve malnutrition for children in Africa. To do this, we were identifying human transcriptome changes in diapers that would indicate disease, providing interventions for children that had a high disease burden, and alleviating the impact of gastritis on nutrient procurement. Simultaneously, for the medical component of my degree, I was learning about different diseases and completing clinical rotations to learn about how doctors treat patients. During this clinical component, I met a woman in her 50's who presented to the hospital with Stage IV colorectal cancer. The woman had never been screened for colorectal cancer because she could not take time off work to have a colonoscopy. Based on the research I conducted in the microbiome labs, I realized that there had to be a better way to help people identify disease before it became deadly. At the time I called my brother, who had just recently received his MBA from Wharton and we co-founded Geneoscopy to start thinking about ways to address this issue.
Can you share the most interesting story that happened to you since you began your career?
I have tried to be very active in the St. Louis entrepreneurial community since we launched Geneoscopy in 2016. As such, I like to volunteer at local conferences whenever possible. One day I was asked to attend a local roundtable event with a few entrepreneurs to discuss the development and needs of the city. I showed up not really knowing exactly what was going to happen, so I showed up a little early and found my place at the small table in the conference room. After a few minutes, the door to the conference room opened up and to my surprise, Mark Zuckerberg walked in. He sat right across from me and said, "Hi I'm Mark". We proceeded to have the most wonderful afternoon learning about what is going on at Facebook and discussing the entrepreneurial community in St. Louis. It was so unexpected but pivotal point in my career where I realized that all entrepreneurs share some of the same experiences and obstacles and I felt very motivated to continue the important work we are conducting at Geneoscopy to improve the way that we treat GI disease.
None of us can achieve success without some help along the way. Is there a particular person who you are grateful for who helped get you to where you are? Can you share a story about that?
For the MD/PhD program at Washington University, I was tasked with identifying a mentor or principal investigator for my PhD training. I remember spending many hours searching online for a laboratory that I wanted to join that would help me achieve my goals as both a medical/graduate student as well as an entrepreneur. I remember reviewing Obi Griffith's laboratory and being so inspired by the work he was doing to advance precision oncology using bioinformatic tools and computer science. Despite having never taken a didactic course in coding or computer science, I asked to speak with him about joining his lab. On our first interview, he asked me what language I spoke (as in, what computer language), and I said French; I was obviously not off to a good start. I am not entirely sure what Obi saw in me that made him take a chance on me, but he offered me a position in the lab for my PhD training. Accepting that position was one of the best decisions I have ever made. My education in his laboratory directly contributed to who I am today and to the success of Geneoscopy. Under his guidance, I have published 20 peer-reviewed manuscripts, 14 first-author abstracts with 4 platform presentations, two book chapters in the precision oncology space, and 3 patents that are related to the company. Obi was supportive of both my initiatives as a scientist in his lab as well as my desire to pursue a career as an entrepreneur. I am truly grateful for his mentorship over the last 7 years and hope that we continue to work together to solve very important problems in the precision oncology space.
Can you please give us your favorite "Life Lesson Quote"? Can you share how that was relevant to you in your life?
"If you want to take the island burn the boats" — This is a quote by Julius Caesar where he was describing that if you want to capture an island, you must burn your own boats (or rather your personal safety nets) so that you have no choice other than success. I have found that entrepreneurship is incredibly volatile whereby one day I will feel confident that we are on the right path and the next day I feel that our efforts are futile. As a leader, and especially when you are fighting for a very important cause, it can be necessary to push through difficult times. This quote reminds me that achieving your goals is not easy and that making change in this world takes unwavering passion and persistence.
You are a successful business leader. Which three-character traits do you think were most instrumental to your success? Can you please share a story or example for each?
Embrace your flaws: Everyone has flaws. I feel that I have been successful because I am able to recognize these flaws, understand where I need help, and fill in the gaps with resources and other people who are better than me in those areas. If you always assume you know everything or are always making the right decision you will be opening yourself up to failure in so many ways.
Never procrastinate: Each morning, I wake up and make a list of activities for the day and then attack the most difficult thing on the list. Getting things done early and finishing the difficult things keeps me motivated so that I never feel like I am falling behind.
Perfection is the enemy of done: At the company, I have learned that there is a "good enough rule" whereby once you reach a certain level of acceptance, you must let go and move on. Whether it is a grant or a manuscript or even an email, I see a lot of people attempting to achieve perfection and will go over the same materials hundreds of times only to make marginal changes that do not dramatically add value to the work. For me, it is more important to make sure that everything gets done even if it is not 100% perfect.
Ok super. Let's now shift to the main part of our discussion about the tech tools that you are helping to create that can make a positive impact on our wellness. To begin, which problems are you aiming to solve?
Geneoscopy is developing next-generation diagnostics that leverage the power of stool-derived eukaryotic RNA (seRNA) to better prevent, detect, and guide treatment for gastrointestinal disease. Our lead product is a noninvasive diagnostic to detect colorectal cancer and precancerous adenomas in average-risk patients, those individuals over the age of 45 years old.
How do you think your technology can address this?
Geneoscopy has developed a novel method to extract eukaryotic RNA biomarkers from stool samples to enable a new wave of noninvasive diagnostic tests to prevent, detect, and treat gastrointestinal (GI) disease. While RNA has been shown to be a very powerful biomarker in the GI space, previous attempts to preserve and isolate human RNA in stool have been unsuccessful due to the unstable nature of these biomarkers. The company has created a proprietary method to preserve RNA in stool at ambient temperature that allows patients to assess their GI health in the comfort of their own homes.
Can you tell us the backstory about what inspired you to originally feel passionate about this cause?
When I started medical school in 2014, my research at the time was mostly dedicated to solving micronutrient malnutrition for children in Africa. We received a large Bill and Melinda Gates Foundation Grant to understand a disease called Environmental Enteropathy (EE), which afflicted children under the age of 5 and caused growth faltering even in the presence of adequate nutrition. For these children, we were not able to provide colonoscopies to obtain biopsies, so instead, I was tasked with developing a noninvasive method to identify which children had the disease and which children were healthy. To do this, we collected dirty diapers and isolated the eukaryotic, or human cells to identify the disease. Once we were able to successfully identify which children were afflicted with EE, we could provide medication and alleviate the malnutrition. This effort was largely successful and was part of Bill Gates's keynote speech at the 2018 JP Morgan Healthcare Conference! Simultaneously, while I was completing this research at the Washington University School of Medicine, I had been executing clinical rotations in Barnes-Jewish Hospital. During this time, I met a 52-year-old woman who presented to the hospital with Stage IV colorectal cancer. When I asked the woman why she had never received a colonoscopy, she stated that she could not take time off work to have the procedure done. It was distressing to me that we live in a world where we can sequence the genome in 24 hours, can provide life-saving therapeutics to solve many different types of cancers, but we couldn't provide this woman with an alternative to a colonoscopy. I realized that the research I had been doing in the microbiome space could potentially be the solution to this compliance problem in the CRC space. A few months later I founded Geneoscopy with the goal to improve the way that we look at gastrointestinal disease.
How do you think this might change the world?
Colorectal cancer is the second leading cause of cancer-related deaths in this country with over 50,000 deaths each year. This paradigm is mostly related to low compliance for colonoscopy and subsequent late-stage diagnosis of disease. Colorectal cancer is unique in that it typically starts as a small polyp that can grow over the course of several years. If the precancerous polyp is detected before malignant transformation, the patient has almost a 100% 5-year survival. However, if the polyp goes undetected, then it can become cancerous with a massive increase in morbidity and mortality.
While there are some noninvasive tests on the market that attempt to address compliance with colonoscopy, most of these tests are aimed at detecting cancer, rather than preventing cancer through polyp detection. The high false negative rate for polyps, especially for advanced adenomas, has major implications for patient care. Geneoscopy has developed a diagnostic that specifically addresses this concern. Improved sensitivity for advanced adenomas with maintenance of sensitivity for colorectal cancer provides us with the opportunity to lower morbidity and mortality associated with CRC through improved CRC screening compliance and subsequent reduction in the number of late-stage diagnoses.
Keeping "Black Mirror" and the "Law of Unintended Consequences" in mind, can you see any potential drawbacks of this technology that people should think more deeply about?
All diagnostic tests have false positive and false negative rates. A false positive test is when you have a positive test on the diagnostic, but there are no actual findings (polyps or cancer) in your body. A false negative test is when you have a negative test on the diagnostic, but your body has a polyp or cancer in the colon. Given that all patients with a positive Geneoscopy test will go on to receive a colonoscopy, a false negative is much more serious. I think it is important for people to listen to their bodies and make sure that even if your doctor or the tests are saying that everything is ok, but you do not feel right then you must be an advocate for your health and make sure that your voice is heard.
Here is the main question for our discussion. Based on your experience and success, can you please share "Five things you need to know to successfully create technology that can make a positive social impact"? (Please share a story or an example, for each.)
"Never pay for something you can get for free" — When you look at Geneoscopy now, we have over 60 employees, an 11,000-square foot laboratory, 3 patents, and over $105M in venture-backed funding. However, in the beginning, we were just three students in a conference room with some grant funding. In those early days, we thought very carefully about how we would plan our budget to ensure that we were adding value to the company. To that end, we always made sure that if there was something we could get for free or for a reduced cost, we took advantage of that opportunity. For example, we would ask distributing companies if we could use a demo or a used machine, we would ask incubators if we could borrow a workbench and pipettes to execute preliminary research. We applied for non-dilutive grants and completed pitch competitions to try and extend our runway. In the end, because we were scrappy, we were able to complete our clinical trials and demonstrate that the technology worked for very little capital. This allowed us to raise further funds to build our lab and execute our pivotal trial for the CRC screening assay.
"Surround yourself with people who think differently than yourself" — There are many leaders who surround themselves with people who are afraid to challenge the status quo or speak up if they see something. I encourage my team to tell me if they think something is going wrong or if I am personally doing something that could be optimized because it prevents us from falling into avoidable traps or pitfalls. At Geneoscopy we have a culture of openness where even the youngest or newest employees hopefully feel welcome to speak up and discuss what they think is best so that we can grow as a company in the right direction.
"If you are going to fail, fail fast" — Especially in science, it is important to set acceptance criteria and stick to them. If you design an experiment, you must think about what it would take to consider the experiment successful and if you do not meet your goals then you move on to the next one. A lot of entrepreneurs become so invested in their ideas that they are afraid to pivot or let go of something that is not working and you can end up investing valuable resources in a dead end.
"Age is just a number" — There are so many times that people have told me that I am 'too young' to run a company. It is important to know your limitations and fill in gaps with consultants, advisors, or employees who have been there and done it before, but just because you are young does not mean that you cannot achieve great things.
"Challenge the status quo" — When we launched Geneoscopy, one of the biggest pushbacks was that the gastroenterology community would never accept a non-invasive diagnostic test for CRC screening because it would take away the number of colonoscopies performed per year. We viewed it a little differently; if we could create a test that had incredibly high sensitivity for advanced adenomas, which represented a large portion of the population, then we would be able to funnel high-risk patients to GI offices and allow them to complete complicated cases that provide more revenue per case and more satisfaction to the doctors. When we pitched this idea to the GI community, it became clear that our solution could solve the screening compliance problem while simultaneously allowing GI doctors to continue to run their businesses.
If you could tell other young people one thing about why they should consider making a positive impact on our environment or society, like you, what would you tell them?
For many people, their job is a means to an end. They go to work so they can pay for their hobbies or activities outside of work. I feel very fortunate that I truly enjoy going to work every day. People always say that if you love what you do then you never work a day in your life, and I certainly think that is a true statement. Each day I genuinely feel like I am making a difference and joining in the fight against cancer.
Is there a person in the world, or in the US with whom you would like to have a private breakfast or lunch, and why? He or she might just see this, especially if we tag them. 🙂
George Lucas (screenwriter, producer, director, and creator of Star Wars) — Oh my gosh, if I could meet George Lucas I would die! Not only am I personally a huge fan of Star Wars, but he created a vision of healthcare in his Star Wars universe that inspired and shaped how technology has developed here on Earth. The healthcare technology portrayed in George Luca's Star Wars universe can be seen in today's hospitals and healthcare settings including things like prostheses inspired by Luke Skywalker's robotic arm. The idea of droid medics is in use in emergency rooms right now for stroke patients. It's called Telestroke and it allows doctors to treat stroke patients from miles away, and the concept of Force healing (using the power of the mind as a healing tool) is being used for chronic pain management, insomnia, and to manage side effects of cancer treatments.
I would love to know where Mr. Lucas sees science fiction taking healthcare next…like Bacta tanks — where you can be submerged in a fluid that could accelerate healing and treat major injuries. I would also love to know more about his life, too. He has an entrepreneurial spirit — something we both have in common. He dealt with setbacks and challenges along his career path, and learned not to take "no" for an answer.
I think lunch with George Lucas would be nothing less than fascinating.
How can our readers further follow your work online?
Our research can be found on our website at www.geneoscopy.com. We are also very active on social media to promote GI health on the following platforms:
Twitter: @GeneoscopyCo
LinkedIn: https://www.linkedin.com/company/geneoscopy
Facebook: https://www.facebook.com/GeneoscopyCo
Instagram: https://www.instagram.com/geneoscopy/
Thank you so much for joining us. This was very inspirational, and we wish you continued success in your important work.
---
UPDATE SINCE PUBLICATION:
Since July 2022, Dr. Barnell and the Geneoscopy team have completed the CRC-PREVENT trial to evaluate the efficacy of its noninvasive, stool-based, at-home diagnostic screening test to detect colorectal cancer (CRC) and advanced adenomas (AA) in average-risk individuals. Geneoscopy's test demonstrated 94% sensitivity for CRC and 45% sensitivity for AA, representing the highest sensitivity profile reported to date for any noninvasive CRC screening test in a prospective clinical study.
"We are committed to closing this gap for patients who require screening and look forward to working with the FDA to bring a convenient and reliable screening option to patients that may allow for earlier detection and treatment – and potentially save lives," said Dr. Barnell.
In January 2023, based on the trial results, Geneoscopy submitted a Premarket Approval (PMA) Application to the FDA and is awaiting the Agency's decision while preparing for a commercial launch later this year.